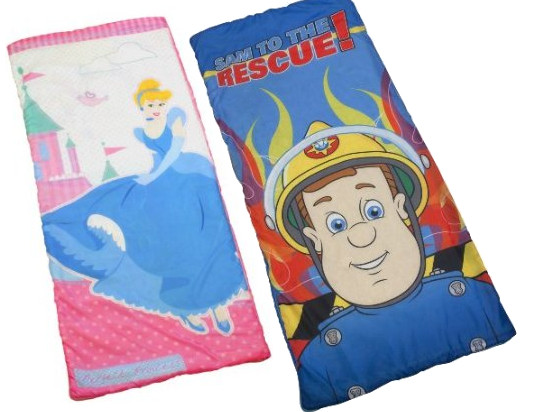 There are a variety of character sleeping bags available from Amazon, and we particularly liked Fireman Sam  and Cinderella, who are available at £9 and £7.58 respectively, delivered, which we think is a great price. Apparently they are suitable for camping, which makes them doubley useful, I think.
Remember these are Amazon sellers, so you have to click on the links below, then find the appropriate sellers in the 'other sellers' section. 
We love camping as a family and recently I bought my daughters character sleeping bags. They were so pleased to use them, they decided they needed to do some indoor camping on a particularly rainy weekend. It was great fun.  I love that they can be fun on a rainy day, used for sleepovers and visits with and from friends, and on real camping trips.
The reviews on these are really good too - mostly from grandparents who bought them for grandkids, who all loved them.