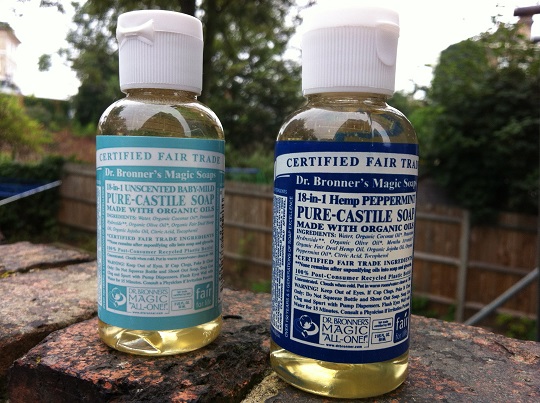 It has been a very busy summer of being out and about in our house this year. We've clocked up camping, overseas trips, festivals, and days at the seaside. Travelling about with me everywhere have been two little bottles of Dr Bronner's Travel Size Castile Liquid Soaps. Not something I ever used to travel with, I have to say. And what with baby wipes, I could pretty much make do wherever I was.
However, times change, children get older, and activities get more adventurous. Just how useful was the soap? Read on to find out more!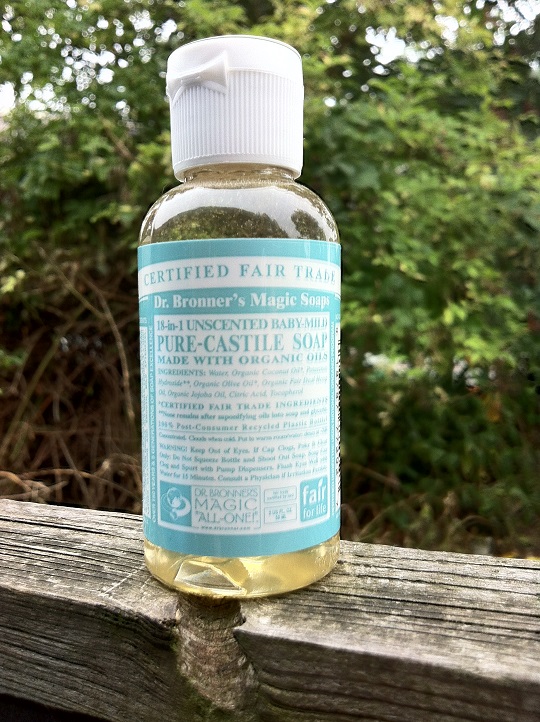 First the information bit. Dr Bronner's Castile liquid soaps (£1.99) are organic, containing no sythetic foaming agents, thickeners, preservatives, fragrances, dyes or whiteners. The bottles use 100% post consumer recycled material, including the labels.
The soaps are completely biodegradable, plus they are certified Fair Trade, and the organic ingredients are sourced from India, Ghana, Palestine, Israel, and Sri Lanka.
There are 9 different scents. We recieved Hemp Peppermint, and Uncscented Baby Mild.
Now, if you're travelling by plane, the first thing that is particularly good about these soaps is that they are in 59ml bottles. This means that they are OK to take on the plane, and I had no trouble at any of the four airports we travelled through. Including Heathrow, which is normally quite tough.
The soaps can be used as soap, for cleaning people and clothes, also as a pest spray, to treat cuts and grazes, as shaving cream, AND, to brush teeth.
We couldn't test all these uses, but we did manage a fair few. Whilst camping I did need to wash out some underwear, not having bought enough! The soap was lovely, cleaning well, and more importantly, rinsing out well.
I used the baby-mild one on my son and husband, both of whom have very sensitive skin. This is the one we took to the festival with us, and also to the sea side (always a necessity when relying on public loos to have your own soap). You only need to use a little bit of soap, and there's even still a little bit left in the bottle! What I liked the most is that skin doesn't feel dried out.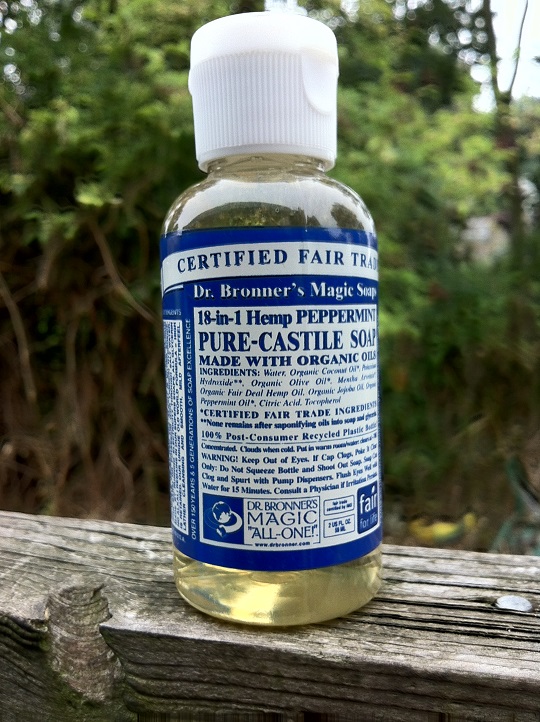 The peppermint one came on holiday with us, and I was so glad I did as I forgot about the liquids limit and lost our toothpaste at Heathrow as we went through security. There is nothing worse than fuzzy teeth. I can't say it was a pleasant experience. But that was down to the texture, and the fact that all I could think was I was washing my teeth with soap!
Overall I have to say, I love these travel size soaps. In these days of modern travel, travel versions are a necessity. And at this price, they're not too expensive. I'll have no hesitation in buying the soaps in the future.
One last thing, when you're travelling on a plane, the peppermint soap is really refreshing. The scent was reviving after breathing in all that recycled air.
Pros: a mild, easy on the skin soap, good scent, excellent multi uses, good size, good price
Cons: texture a little odd when brushing teeth.
Overall verdict: 10 / 10