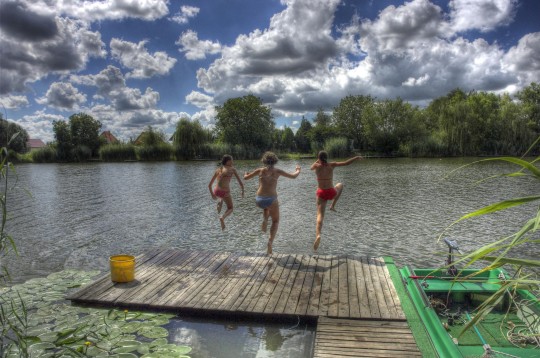 Imagine this: it's summer holiday season and you have £5,000 burning a hole in your pocket BUT you must make a choice: spend it all on an unforgettable family holiday OR splurge it on a once-in-a-lifetime trip - only for you - to an exotic island destination that you've always dreamed of visiting.
The family break will be the sort of memory-making holiday that you'll treasure, hanging framed photos on the wall to help you cherish all those lovely moments of togetherness. The kids will talk about it endlessly and even once they've flown the nest you'll look back fondly on *that* holiday and thank your lucky stars that you chose to invest all that money in something so special that benefitted all the family.
The trip for one to the exotic island, in contrast, will be the sort of getaway you've only ever glimpsed in your wildest dreams. You'll wear a different swimsuit every day and lie on a sun lounger looking out over crystal seas from morning till night, rousing yourself only to signal your readiness for another cocktail, and perhaps to cool off in the water before devouring another of the books that have lain unread on your bedside cabinet for years. This is the holiday that will soothe all those edges that motherhood has so frayed. You'll return home rejuvenated, refreshed and with a new appreciation of your family, plus you'll be a kinder, better, more patient mother because of that long-awaited trip.
Sounds decadent and unlikely, but that's just what mother of two Jules Osmany did, as you'll know if you read her story in the Daily Mail earlier this week.
So could YOU take an exotic holiday on your own and leave the kids holed up with your partner in a shabby caravan? It's a no-brainer to most of the mothers I know; they'd rather do time at Her Majesty's pleasure than contemplate spending a week with every luxury on tap but without their beloved family at hand. Even the loveliest holiday imaginable would feel like a prison sentence if they couldn't bring their kids or other half.
"I just couldn't enjoy myself on an exotic holiday for me, knowing that my husband and kids were slumming it at home while I was wasting enough wonga to take us all to Disney World," says a mum of one I know. She thinks the Bora Bora mum has got her priorities all wrong. "When you're a mum the kids come first, and you get whatever's left," she adds.
But not everyone agrees. A couple of my mum friends see no shame in taking off for a bit of 'me-time' without the kids several times a year. Granted, they book a nice B&B for a few nights of R&R as opposed to splurging the family savings on an indulgent island getaway, but they reckon those who criticise mums like Jules need to get off their high horses and lighten up.
"I love musical theatre and I miss the energy and vibrancy of city life; both things which bore my children rigid, so twice a year I book a city break to get my fix of both. It recharges my batteries like nothing else, I come home energised and ready to give my all to being a mum again, plus my kids benefit enormously from seeing me pursue my own interests beyond their world, and from seeing that their father supports and encourages that. Would people prefer that I never enjoy or experience the things I love ever again just because I'm a mum? How exactly would that benefit my kids?"
It's a moot point, well made. But for some critics, Jules' story would read less like an exercise in selfishness if she'd sent her hubby and kids to the tropical island and made do with the mini-van for her mini-break instead. Isn't that a bit like saying it's ok for mums to indulge their own passions just so long as they make enough sacrifices so as to ensure that doing so isn't actually much fun? What's the point of that?
Personally speaking, I dream of spending more time with my family, not less, but then I've also learned the hard way that I'm just not the type who can holiday happily on her tod. I've been on enough work press trips to seemingly glamorous locations to know that I literally get ill with homesickness before I've left the house, and usually fritter away my time wishing my man and kids were by my side to share the fun. £5k would be a lot of money to spend on the trip of a lifetime only to find that what you most want is just to go home. Much as I love the thought of a few days of luxurious alone time and envy the mums who manage to pull that off, I'm just not cut out for it.
That said, I don't think any mum should be fair game for our judgement and disdain just because she chooses a path that we might not. Yes, I've given birth and therefore signed up for sacrifices and choices that I might not otherwise have made if I hadn't been graced with the presence of my kids in my life, but I don't recall giving up the right to have dreams or interests beyond my family commitments either.
And while I love family holidays - and long for more of them rather than more time on my own - I think it's pretty vital that we remember not to confuse being a mother with being a martyr. The two are not the same.
So take a holiday alone, treat yourself to an afternoon off now and again, or deny yourself and sacrifice everything for you kids if you choose. But let's live and let live a little more.