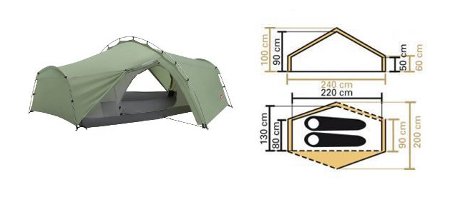 There's a fantastic 57% off the Coleman Novae X2 Tent at Amazon, bringing it down from £229.99 to just £100.  This offer is only available till midnight on Sunday.
It's been over a year now since we went camping in France with my grandmother and then 8 month old daughter and I must admit, I'm about ready for our next trip. We do have a lovely large family sized tent which definitely adds to our comfort on these outings.
This Coleman Novae X2 isn't quite as large, but it is purpose built for hiking, and weighs just 1.9kg – not bad at all! The tent has one room and a small storage area, and comes with all the bits needed to set it up, including Scandium Air Hercules poles with floating inserts.  For its size it's very lightweight, and apparently it takes around five minutes to erect – which is great at the end of a long day's hiking!
And the tent is built to withstand wintry and windy conditions too.
This is a 2 person tent, but a reviewer does mention that it's only high enough for, erm, horizontal activity, and isn't really designed to be spending time in it. That said, it is 130cm high at it's highest point, and 80 cm at it's lowest, so you should at least be able to sit up and  get dressed and so on!