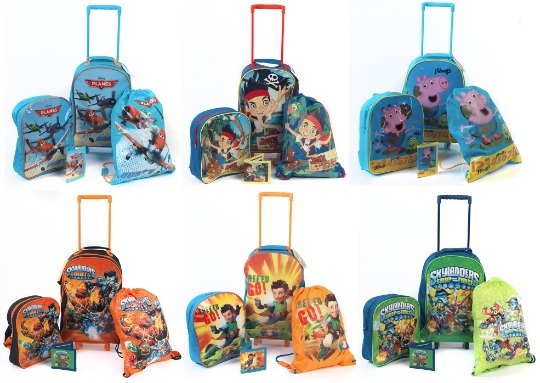 Groupon have a great deal on kids character luggage sets, with prices from as little as £10.98! Even adding on the £1.99 for delivery this is still a really low price for a 4 piece character set, and they certainly seem to be selling fast!
There are six different characters to choose from in this offer. Tree Fu Tom sets are £10.98 each, and for £12.98 you have a choice of Disney planes, Jake and the Neverland Pirates, Skylanders Giants, Skylanders Swap Force or Peppa Pig's little brother George.
In each set you get the following:
Wheely bag with pull handle
Backpack
Trainer bag
Wallet
The wheely bags on there own are usually upwards of £10, so to get all the other bits and bobs as well is great value for money. This will be enough to carry the kids holiday stuff, or for sleepovers, or a new school bag. It looks like there's another 9 days left on the groupon countdown clock to get this offer, so order them while you can!