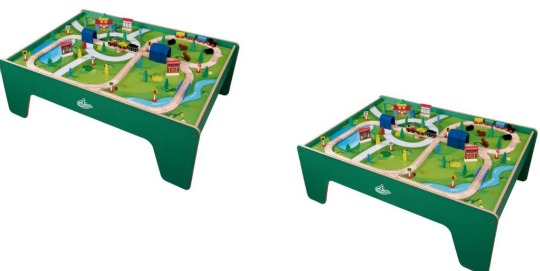 This is normally £80, it currently has £30 off and you can shave another £10 off that price by registering as a new customer at Tesco Direct and using the discount code TDX-KYNK in the promotional box at checkout. This is also included in the Tesco Boost and would cost £25 in clubcard vouchers if anyone has that many. Just be aware you won't be able to use a new customer code plus your vouchers unfortunately. It's £40 with the new customer code or £25 (or as many as you have) worth of clubcard vouchers, not both.
The search for this started a while ago for me and I've looked at a lot of train tables. This one from Tesco Direct isn't only the cheapest, it's one of the best looking too which is backed up by the reviews. I don't think I've came across many products that have such rave reviews, this one scores 4.8 out of 5 from 220 reviews and has some glowing comments. A typical one is :
I bought this for my son's second birthday and he is so in love with it. It's fantastic to see him smile every time he comes downstairs to play I would never ever regret this purchase especially as the wooden Thomas railway trains fit the track too.
For your £40, you get the train table which features countryside scenery, houses, tunnels, 2 trains and a wooden track – over 100 pieces. It measures 40.1 cm high by 82.8 cm wide and 119.2cm in depth, so it's quite a large item, make sure you know where you're going to put it before you buy!
You can collect it in store for free, or opt for home delivery but that will add an extra £3 to your total.
Not sure? Click the link and have a read through of those reviews, this could make an awesome Christmas present for any train mad tots but no doubt by the time Christmas rolls around it will be nearer the £100 mark.
You'll find that eCoupon for Tesco Direct over in our voucher section.