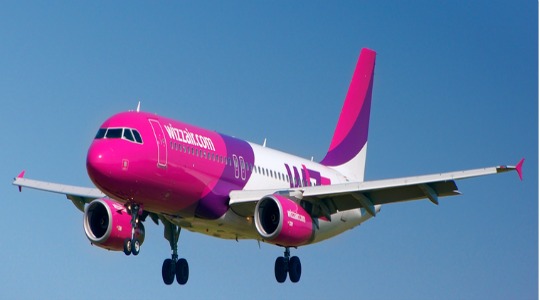 I know, you are sat there thinking who the heck is wizz? They are a Hungarian Budget Airline. Get booking flights on any of their routes and get the second ticket for FREE. Yes, BOGOF on FLIGHTS. I couldn't believe it either.  This is what I gather from this offer is you can book up to six tickets, and every second one you will get FREE, so in total you will only pay for three. By FREE they mean your travel fare is covered along with taxes, other non-optional charges and a Cabin Bag. If you need to take more luggage it is chargeable, and what rate I do not know. This AMAZING deal is on until Midnight, tonight so I would get booking if you want to take advantage of it.
Flights can be booked from many airports (small and big) across the UK to places like Poland, Hungary, Romania, Lithuania, Czech Republic, Bulgaria, Latvia, Serbia, Ukraine, Macedonia, Slovenia, Croatia. They are cheap, so you can get away for very little. Especially if you are a family, your flights will not cost you a fortune with this incredible offer.
Here's the Small Print courtesy of Wizz:
This promotion applies on 19 of May from 00.00 hour to 24.00 CET only if you purchase minimum two (2) seats or more, at the same time as part of the same booking, for the same flight operated by Wizz Air Hungary Ltd. (W6) booking may include maximum six (6) passengers. Every second seat purchased will be free, up to a maximum of three free seats per booking. The term "free" means that you will not be charged the fare including taxes, other non-optional charges and a small cabin bag (max: 42*32*25 cm) (but excluding the administration fee) for the free seat.  The administration fee will be payable for each free seat.  Large cabin bags and each piece of checked-in baggage are subject to additional fees. No other optional additional services and products are part of the promotion and you must pay for these even if they apply to or are purchased in connection with a free seat.   The seats purchased must be used together and cannot be cancelled separately. Bookings including more than six (6) passengers are excluded. The number of seats available at any particular price is limited.
Thanks to iEimis @ HUKD