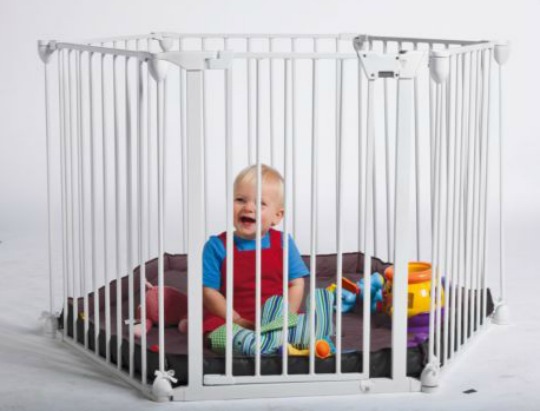 Half price from £79.99, this has previously been on sale for £49.99 and is currently at £34.99.
Playpens were always a bone of contention among my friends when our kids were younger, half loved them while half felt they were for lazy mothers, I kid you not. I had one and I don't consider myself a lazy mother by any stretch of the imagination. My daughter would happily play away for 15 minutes with all her favourite toys while I grabbed a coffee or even had a quick tidy round.
You can use this as a play pen, a room divider or a multi panel safety gate if you wish. It measures H73, W321, D156cm and when folded for storage H73, W65, D13.5cm and is suitable from birth up to kids weighing around 20kg apparently. Or when they try to climb out really.
Two reviews on this one both give five stars with one remarking :
The product fits the bill very nicely. This is my daughters second playpen. The first was covered with a black mesh, which was good when the Boy could barely walk, but now that he can climb, the bars do not enable him to get a grip with his feet.
You can collect for free from an Argos near you or opt for home delivery but that will cost you £3.95.