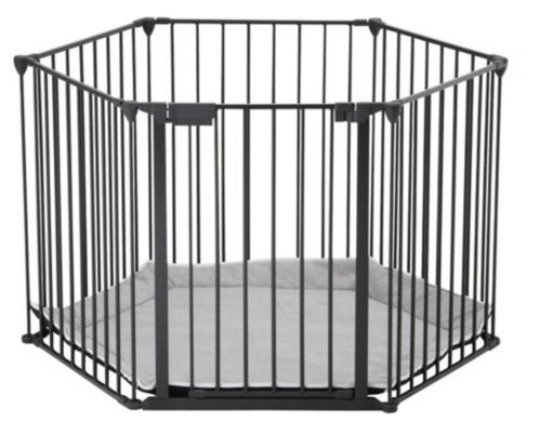 The Tesco Direct Sale has an awful lot of things to wade through, but amongst the ridiculous 'bargains' like £100 toy boxes (ha ha) there are a few great offers in the Baby Section. This BabyDan Play Pen with Play Mat is reduced from £94.99 to only £62.99 at the moment, and this is a clear £10 cheaper than Amazon, and about £30 cheaper than most other retailers.
The play mat included is soft and padded and is machine washable, and the play pen can be converted to wall off part of a room or used as a fireguard. The reviews of this are really good, the only downside being that if you wish to use it as a room divider you need to get fixings to secure it to the wall. Someone also used it as a puppy enclosure - sounds pretty versatile to me.
There was a time a few months ago when we were desperately looking for one of these for our baby, as he became very mobile very quickly, and we couldn't leave him alone for a second without him getting into a pickle. I had to take him upstairs and put him in the cot if I wanted to do anything, and he protested madly at that. The price of play pens were too high for us too afford, but we might have stretched to this price had it been available. I'm sure it would have made life a whole lot easier to have a safe place to pop baby for a short while so we could put the dinner on or the washing in.
The BabyDan Play Pen can be collected from store for free, or home delivery charges are from £3.