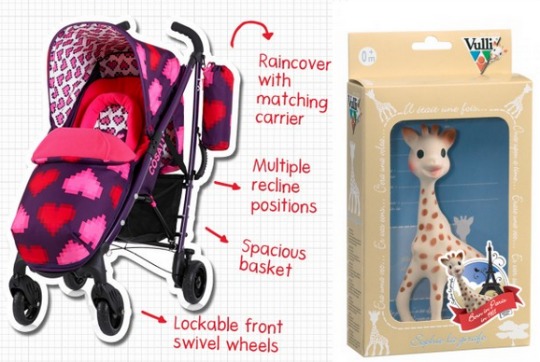 The last time Wauwaa released a 50% off promo code you guys went nuts. They have only gone and done it again, which means you can pick up some right good bargains from brands like Trunki, Sophie La Girafe, Cosatto, Chicco and many more. To your entire order for just half of what it should cost you then all you need to do is enter FEB50 in at the checkout. If you have never heard of Wauwaa, fret not, they have a good reputation and their customer service is awesome. As I always say when I post about Wauwaa, their delivery times are very slow, in my experience BUT if you can wait for your order then you can bag yourself a great deal.
You want to be quick if you want Sophie La Girafe*, nornally selling at £12.99 now £6.50 when you use the code. There's more than just the teether too, this Sophie La Girafe Outfit* is nothing less than adorable. Get it for just £12.50 with code.
Another brand that sells like mad when Wauwaa run promo codes is Cosatto*. Their bright and wonderful prints have won a lot of us over, myself included. My favourite item is this Cosatto 3Sixti Highchair in Strudel* just £90 instead of £180.
I could go on and on, but seriously, go look for yourself, there's lots to choose from and many items that you wouldn't normally get discounted. Delivery is £3.95. It's worth noting that maximum discount applied is £250.