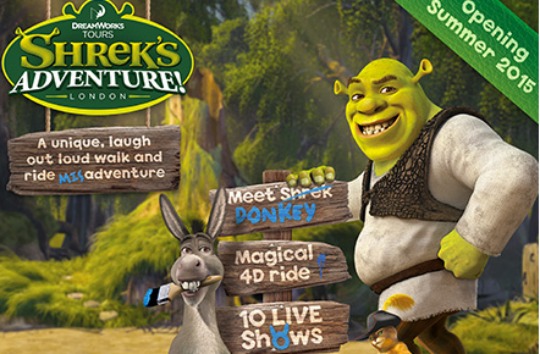 Shrek's Adventure is a new visitor attraction opening in London in July, and it looks awesome. It's a "unique laugh out loud, walk and ride misadventure" where you get to visit Shrek's swamp and meet all your favourite characters.
The adventure begins when you board a magical 4D 'DreamWorks Tours' bus. With Donkey as your mischievous tour guide, calamity, chaos and endless fun are the name of the game.

Be part of the 10 live fairy-tale themed shows where you can visit Shrek's swamp, find your fortune in the crystal ball, get lost in the Mirror maze and reveal your inner Ogre when needed!
As it's not open yet we don't any actual pictures to show you, but there's a mock up on the Shrek's Adventure website in the promotional video which gives a good idea of what to expect.
They are offering 10% off tickets when you book in advance as well, and as they are expecting it to be mega busy it's definitely going to be one you need to book for rather than just show up, especially in the school holidays.
So what do you think, anyone fancy going? We will be keeping a close eye on this one!