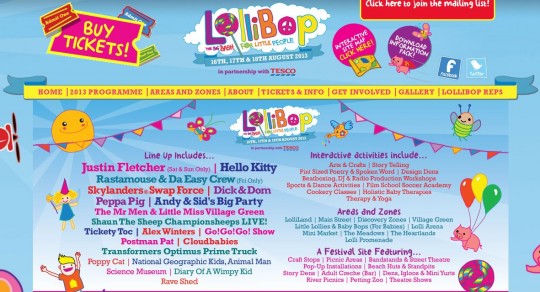 Lollibop, The Big Bash For Little People, happened in London last weekend. You might be wondering why we're reviewing a festival, and especially one that happens in London, when not everyone lives in the Capital City.
Well, Lollibop is a festival specifically for kids, and it is such a big deal, I spoke to parents from all around the country as far away as Scotland - they'd come down for Lollibop and were making a long weekend of it.
The fourth year running, LolliBop remains the UK's biggest ever festival for kids. It's designed to delight mini festival goers, providing the best summers day out for under 10s and their families. It runs over three days, but is a day-only festival, with no camping involved. 
All the entertainment is aimed at children and many of the acts are from CBeebies. This year's star was Justin Fletcher, but we also saw Katie from I Can Cook, Dick and Dom, Hello Kitty, and more, although we didn't know who they all were. 
Aside from the acts, which are obviously the drawing card, there's so much to do. Colouring in stations, art and craft stations, stamping on silk, dress up, story telling, play areas - all sponsored by brands like Baby Annabel, Little Tikes, and so on. For babies there was a Baby Sensory tent, and soft play area, for toddlers there was a Little Tikes village and loads of other activities to keep them busy.
This year Lollibop moved from it's old venue in Regents Park to the Queen Elisabeth Olympic Stadium, and it all seemed closer together and a bit more crowded than previous years, but perhaps there were just more people, I'm not sure. There were queues for the more popular things, like face painting, and ice creams, but we found if you move on and come back, you could sometimes catch things in a lull, which was nice.
There's free drinking water, plenty toilets, and ample food outlets to choose from. We paid less for our meals than we did at another festival a few weeks ago, which was a pleasant surprise. My husband and I agreed we wouldn't go if we didn't have the kids, but it's a kids festival and my daughter loved it and has already asked when we can go again.