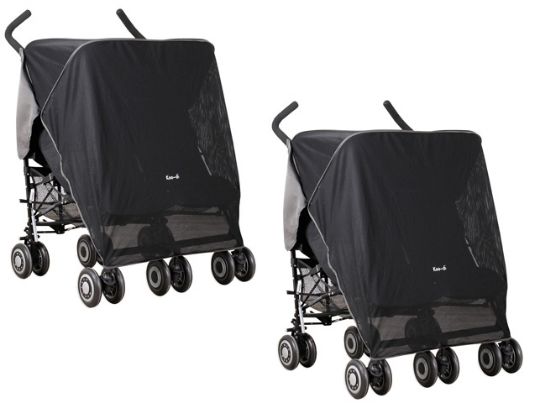 The sun can be too much for our little tots, but we are told that it's dangerous to cover them with a blanket, when they are in a stroller. There are special covers that are safe like this Koo-di Sun and Sleep Double Stroller Cover from Jojo Maman Bebe. It's reduced to just £10 from £22. A great price, plus you get FREE delivery as always with JMB.
The Koo-di Sun and Sleep Double Stroller Cover helps block out the sun and helps protect our little ones from those harmful UVA and UVB rays. This cover will block out up to 93% of those as a matter of fact.
Ever tried to get a little one to sleep when you are walking about in the sunshine? It's too bright for their little eyes. This gives them a  little shade to sleep in.
It'll fit most double buggies and is easy to store. There's a handy pocket on the hood so it kind of folds on itself. This means you can keep it in your handbag, changing bag or in the shopping basket without any hassle.