Greggs Easter Picnic Review

We all know Greggs – it's on every highstreet – with over 1,400 shops across the United Kingdom, and another 600 more shops opening in the next few years. Greggs have now released a new range of sandwiches for you to try.
Perfect for a late April picnic, we hope, we sent a tray of samples to PlayPennies mum Tracy to do the taste test for us. Tracy and her family (and workmen at her house) enjoyed the Free Range Egg Mayonnaise, Tuna and Cucumber, Tuna Crunch Bloomer, Cheese and Tomato, Chicken and Mango, and some Hot Cross Buns.
Starting with the savouries, Tracy gave the Free Range Egg Mayonnaise to a builder called Frank, who gave the sandwich a firm 8 out of 10. According to Frank, "The bread was moist, fresh and tasty with excellent flavour." He said the filling was "a good egg and mayo mix without there being too much of either, and it's well seasoned too." Additionally, he felt, that it had just the right amount of filling too.
The Tuna and Cucumber sandwich was tested by two four year olds on a playdate, and went down very well. The bread was surprisingly moist and fresh, even though it was only eaten towards the end of the day. In the very important opinion of two toddlers, "the tuna was lovely and juicy and the bread was smooshy." After much pondering, we concluded that that was a good thing. The two children gave the Tuna and Cucumber sandwich 7 and 8 out of 10.
Tracy ate the Tuna Crunch Bloomer herself, and for her it's a 9 out of 10. "Oh, man!" she says. "It was delicious. I could actually eat another one right this minute. The bread was unbelievably fresh, really tasty and the tuna was a perfect blend of pepper and mayo and onion. The lettuce added that extra something and the entire experience can only be described as sandwich bliss." An exuberant description of a tuna sandwich, I think, but then I'm not much of a fan in general. Still, 9 out of 10 is pretty good going.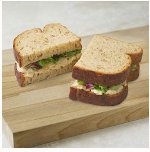 The final two sandwich options were 'farmed off' to Tracy's husband. The Cheese and Tomato got a six out of ten from him, because although it was nice, the tomato had seeped into the bread. Admittedly, he had it for lunch the next day rather than on the day it arrived though. Overall, her husband felt the sandwich was okay. Not awesome or great, but okay. The bread was fine, but it was all a bit bland.
Fortunately the Chicken and Mango bloomer went down much better.  Her husband thought it was a fantastic classic combination in a fluffy and light bloomer loaf which was utterly delicious. Tracy says "As a man that doesn't really hold mayo up as a brilliant thing, he did feel that there was possibly a little too much mayo, but that the rest of the flavours completely erased any negativity. He said it was brilliant, lovely to eat and left him wanting another." In the Mr.'s own words, "This is a really great sandwich."
So that's the savouries and if you need something sweet to wash it down with Tracy recommends the Hot Cross Buns.
"These buns were exceptional," Tracy says. They were "incredibly soft and moist with a delicious cinnamon after taste and lots of lovely raisins. I was very impressed with these." To be really objective Tracy a Hot Cross Bun from the Co-op and another from Sainsbury's and she felt these from Greggs were the best of the bunch.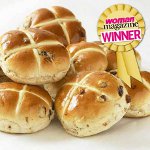 "They are not shy with their raisins or their glaze and the quality is lovely." Tracy tells us. "But they are super sticky! I felt like spiderman after eating one of these."
The buns also remained fresh and juicy for two days but were pretty close to death by day three. "Still all got eaten though," says Tracy. "I give these a massive thumbs up for Easter and as a Mother's day breakfast treat."
You don't have to just take our word for it though. There's a 'Have Your Say' section on the website where you can read what others have had to say about the new sandwiches and flavours. You can add your thoughts there and see what other Greggs customers had to say.
So, with any luck we'll have a sunny Easter weekend, and rather than spending hours in the kitchen cooking, grab a picnic blanket stop by Greggs for some fresh sandwiches and treats and have a relaxing Easter weekend.