Flash Sale On Camping Gear @ Halfords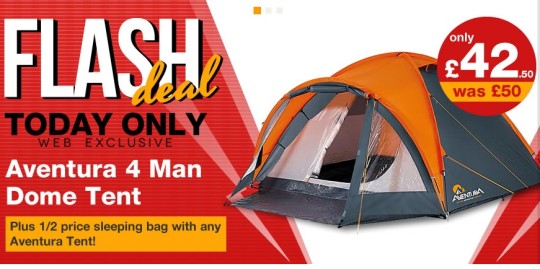 Halfords has a one day only sale on camping gear and specifically on tents, which means you can pick up four-man family tents from £42.50. You can check and find stock in your local store, or you have choose your delivery date for £4.99.
There are also discounts depending on which tent you go for - the 4-man £50 Aventura Tunnel tent purchase gives you the option of half price sleeping bags, for example.
For £80 you could pick up the same tent, with four roll mats, and four sleeping bags.
A friend of mine was looking at going camping on her own with her three boys under five, so we were looking at the 1 Minute tent from Urban Escape. The one we were looking at was well over £100 so Halfords selling this one for £99 should help her make that final decision easy enough - putting a tent up in 1 minute sounds great to me.
So, anyone off anywhere nice this summer?