Half Off Entrance To Diggerland @ Likebees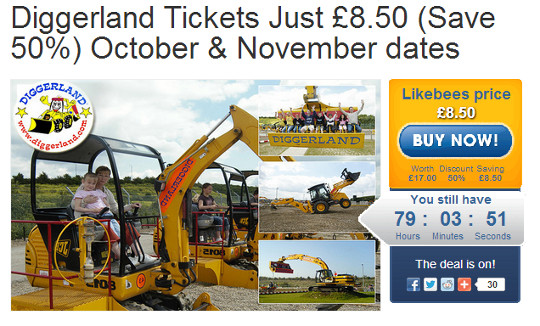 You can grab 50% off entrance to Diggerland for October and November dates for a limited time with Likebees.
I've never been to Diggerland, because, well, my children are under 3, and girls, but a friend takes his sons from time to time and they love it, so I'm sure this offer will appeal to someone!
Diggerland will be closing for the winter soon, and these dates are valid for October and November, at all four sites across the UK. It is - I'm told - the perfect place to bring the kids for a fun-packed muddy day out which the whole family will love.
You and the kids have the chance to drive full size construction machinery under the guidance of their Digger experts, and no driving license is required.
As well as the chance to drive real JCB diggers, mini-diggers, dump trucks, 4×4's and go-karts there are a variety of rides and drives to add to your day out including the Sky Shuttle, the Spin Dizzy, and the Dig-a-Round, as well as other attractions.
Apart from the diggers, Diggerland boasts excellent restaurants and facilities, with soft play areas for younger children.
There are a few terms and conditions, which you can read more about on the offer.
Thanks to thkarthik at HUKD