Culcita Children's Table & Stools/Bench Sets £21.00/£22.50 @Tesco Direct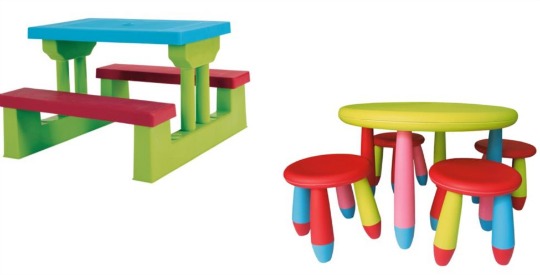 It's another nice day here, which means we will be having a picnic or barbeque out in the garden. I usually turf a tartan rug down for the boys but they don't half make a mess with spillages. I really ought to buy them a nice picnic table.
Tesco Direct have two very colourful sets just now with money off. One is the Culcita Foldable Picnic Table for £22.50. This is a plastic bench and table set. It's brightly coloured and will no doubt appeal to even the fussiest little alfresco diner.
A great feature of this is that it folds, which means, you can stick it in the shed when it's not in use. I will point out though, that this is not just suitable for outdoor use. It could easily be used indoors.
The other Culcita product, Tesco Direct have reduced just now is the table and stool set. This is half price at £21. Both Karen and I read the reviews on this and we deducted that the set might be a tad tricky to build but is sturdy once built correctly.
I love the design of this one, with it's rounded edges and colourful legs. It comes with four stools, which would be ideal for all four of my boys. This set would suit a playroom and could easily be used as an arts and crafts table.
Both sets are plastic and will be weatherproof to a degree. I would imagine they would get bleached slightly if left out for days on end in the sun. These are listed as self-assembly and the reviews suggest they may be a bit trickier than the description makes out.
The table sets are recommended for three years old and over. Collect for free from your local Tesco store or pay £3 to have it delivered to your door.