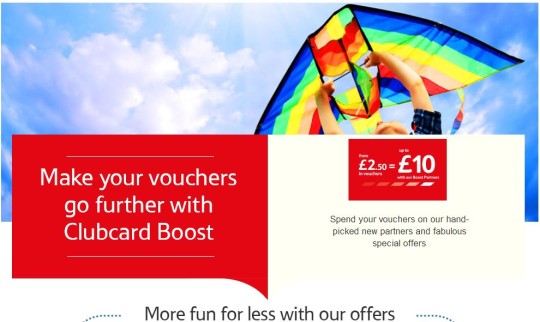 For those of you who collect Tesco ClubCard points, you'll be pleased to know that a number of the Days Out options now have five times the value.
Some Tesco ClubCard exchange points give you specific venue admission in return for your vouchers - many of these are reduced right now - and others, where you get a 'Days Out' voucher which you can use for admission at the gate of around 200 participating venues.  These Days Out vouchers have gone from 4x value to 5x value, meaning each £10 voucher used to cost £2.50, but now costs £2.00.
So, for example, if you're up in Yorkshire, you can take the kids to an amazing day of play at Yorkshire's Eureka! children's museum. If you order your tokens before 23 June, this would have cost you £2.50 (which gets you £10, but now costs you £2).
The same deal applies for a fabulous day out when you visit the Isle of Wight Steam Railway where you can step into a bygone era of transport - one a few little guys I know would love.
The big ones, like say Alton Towers, gives you a day's entry for £12.50 in vouchers,  or Drayton Manor - home of the fabulous Thomas The Tank Engine World - will cost you just £8 in vouchers - a lot less than a normal entry fee!
Plan your perfect family day out with your higher value, boosted Tesco ClubCard points.
Thanks to monkey_uk and mk-donald at HUKD