Children's School Desk/Outdoor Dining Table £10 @ Asda George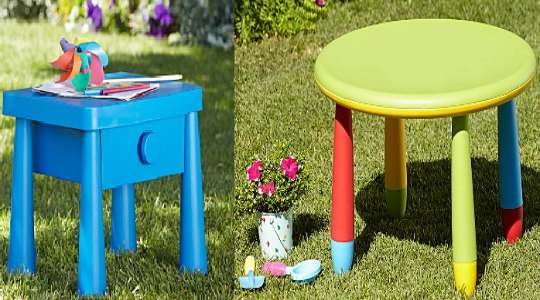 Little tables and desks are ideal for those little ones who like to draw or play sat down. Asda George has reduced a couple of tables for those small ones. The Children's School Desk is down from £17 to just £10 and the Children's Outdoor Dining Table was £18 and is now only £10. There is also a bigger Activity Table* that was £30 and is now only £20.
The Children's School Desk comes in a choice of two colours: blue and red. It's made from plastic which means it is easy to clean. Just a matter of wiping it down. There's a little drawer on it too that is ideal for paintbrushes, colouring pens, pencils or whatever else you little one wants to keep in it.
The Children's Outdoor Dining Table can sit up to four children around it, which is handy if the kids are sitting out for lunch. This table is also made from plastic.
Both of the designs are self-assembly but it's done by push-fit, which means you don't have to screw a thing.
You can Click and Collect the Children's School Desk/Dining Table for FREE from an Asda store or pay £2.95 to have it delivered.