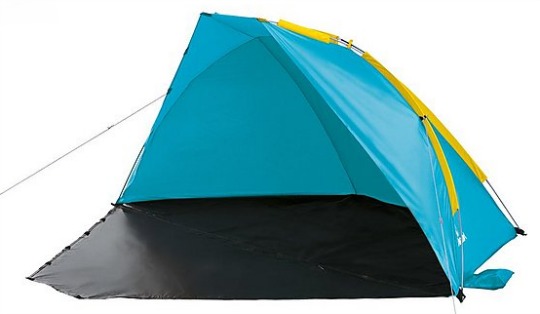 A family day down at the beach can be such fun, not to mention very affordable. When you have a baby in tow, it can be a worry. Rarely, do we ever go down for an hour or two, it's usually the the whole day. You don't want baby in the rays all day, so you need a Beach Shelter. The Aventura Beach Shelter at Halfords  is only £15 and if you read the reviews you will see it's well worth it.
The Aventura Beach Shelter is made from waterproof material which means it's handy should showers come. Do note that the whole family won't fit in it though. It's not exclusive to the beach either, use it in the back garden or down the park.
You can use it as a little changing room too for the kids or even yourself as the groundsheet folds up creating a private space. There are sand pockets that will prevent you having to chance it down the beach every time there is a gust of wind.
It's easy to put up and down and very easy to transport. It would seem it's quite roomy too, from what I gather from the reviews.
You can Click and Collect from a Halfords store for FREE or pay £2.99 for home delivery.