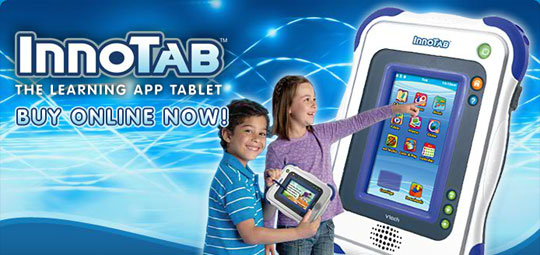 The wooden toy traditionalists among us can mutter all we like, but facts need to be faced - we live in a world where kids and technology are meeting at a younger and younger age and become very good 'friends' very fast.
Lots of people raised their eyebrows when my youngest son was given an Apple iTouch for his fourth birthday.  It was amazing watching him get to grips with it and the amount of educational apps that he loves using make it a fabulous learning tool.
He's been suggesting that his dad gets an iPad2 because then, and I quote, "I can have your old iPad can't I!"
I'm not sure that's going to happen any time soon, especially when there are lots of age and cost appropriate alternatives.
The VTech InnoTab is one such alternative and we shipped one off to Lisa, one of our PlayPennies mums, to road test for us with the able assistance of her four-year-old son.
Reading through the facts, features and benefits of the VTech InnoTab is one thing - it's hailed as an all-singing, all-dancing, fun and educational toy for children aged between four and nine years old - but does it live up to the hype in the hands of children?
Designed to be like an iPad /Galaxy Tab/any other tablet the VTech InnoTab allows kids to indulge their desire to be like, and have things, similar to their parents.
The first thing Lisa commented on was the screen.
"This is actually quite impressive," she says. "The only product I can compare it to is a VTech computer laptop thing I got for my eldest when she was four - she's 12 now - the screen was hideous; tiny, with poor quality blocky images."
The VTech InnoTab has, in comparison, a five-inch touch screen and is full colour.
"The contrast couldn't be greater," comments Lisa, "the colours are rich and deep and there's not a hint of blockiness or pixellation."
As well as the touch screen, there are six function button on the side of the screen.
The top three - a power button, a button that takes you 'home' and a button for on-screen help; the bottom three buttons are used to control volumn, brightness and contrast.
Just like adult tablets, Lisa tells us that the screen flips automatically from portrait to landscape when you turn it.
"This is something my son found immensely entertaining," she laughs, "and he spent quite a bit of time just doing that!"
I'll be honest, I remember being equally fascinated with the flip from portrait to landscape when I first got my hands on an iPhone - there's no shame in just tipping it back and forth for a while.
The screen also works with the stylus pen that it comes with it too.
Moving on to the VTech InnoTab as a whole, Lisa reports that it's fairly chunky.
"It was bigger and a bit bulkier than I was expecting," she reports, "and if you're used to an iPad, then it will feel rather plasticky and not as robust as you might like."
The InnoTab has four corner bumpers which should, at least, protect it from the harsh realities of life with the younger end of its target market.

VTech say that their InnoTab will allow children to...
...develop core skills in reading, maths, spelling, logic and creativity with the many included activities such as an e-reader, art studio, interactive globe, video player and photo viewer
Sounds fabulous!
Lisa tells us, "It comes with five learning apps pre-installed - an e-book, Pinball Letters, Ice Escape, Art Studio, Colour & Pop. It is possible to download other ebooks and games onto the device, and you can buy expansion packs too."
Still sounds great.
However, she then goes on to say, "Frankly it's going to be hard not to have to spend more money on the VTech InnoTab.  The basics included really are the basics and any literate child is going to get bored with them pretty quickly."
In Lisa's opinion, unless you spend more the VTech InnoTab will quickly find its way to the back of the cupboard.
If you have a Kidizoom then the VTech InnoTab is fully compatible with it.  Lisa and her family don't but she did say they were able to get their own photos loaded onto the Innotab.
"This was fun," she says, "It has a photo gallery type tool and comes with a stand, so you can use it as a photo frame if you want to or for reading Kindle-style."
No self-respecting tablet would be complete without an MP3 player; the InnoTab has one of these too but it was of no interest to Lisa's four-year-old son.
This is probably a good thing, to be honest, as Lisa tells us that headphones aren't included and the sound quality through the speakers isn't very good.
And finally...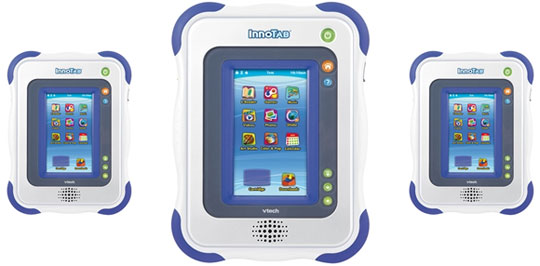 You cannot argue with the fact that at £79.99 the VTech InnoTab is considerably cheaper than buying your child an iPad or other type of tablet, and if you don't want their sticky fingerprints all over yours then this is a viable alternative.
However, unless your child is easily pleased and happy to play with the same basic features over and over again, you're going to need to be prepared to spend a bit more on expanding it so it doesn't end up being a four-week fad.
Minus points
It's not as robust as expected.
Only comes loaded with the very basics, probably requiring you to spend more money on additional features to prevent your child becoming bored.
It doesn't come with headphones.
The sound quality from the speakers isn't good.
Additional game software costs £24.99.
Plus points
You won't have to share your tablet any more.
The VTech InnoTab is significantly cheaper than full-scale adult tablets and other computer type equipment, such as laptops.
The image quality on the screen is excellent.
Additional apps can be downloaded via your PC and start from £2.99.