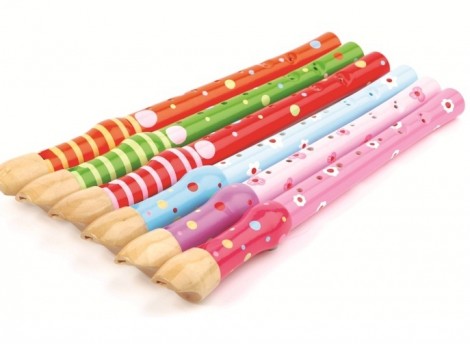 My daughter recently had her fifth birthday party and was given a John Crane Tidlo Rainbow Recorder as a birthday present. I had never heard of the Tidlo range before and, as an avid lover of all things made from wood, I stroked this Rainbow Recorder lovingly.
And it really is well made. The recorder delivers a sweet strong sound and the old recorder specialists among us (aka all the other parents there) all said that they found the finger spacing and quality of the notes to be perfectly lovely.
These rainbow wooden recorders are, really, the real thing and are at the full size of 32.5cm. The sound, as I mentioned earlier, has a soft tone with an almost whimsical quality. It is definitely the timbre of the wood being carried into the sound itself.
My daughter has no clue on how to use the recorder and attempts by my husband to educate her were met with disdain. "NO, daddy," she said firmly, "This is my music maker and you are doing it wrong!"
So we have endured, I mean, enjoyed the strangely harmonic noise produced by my offspring for the past week and she has utterly loved it. I can't actually remember what mornings were like without the discordant squeaking of a distant recorder.
These lovely wooden rainbow recorders come in a ton of colours. You can choose red with polka dots, lilac with flowers, orange with polka dots and many more. The instruments are CE certified, recommended for 36 months and up, and are stonking good value at £5.95 each.
I mean, that's less than £6 for a wooden recorder that has been made with all the right certifications and looks gorgeous. It's available at a plethora of stockists but I nabbed the one from Dillons Toy Box as it was the lowest at the time of going to print.