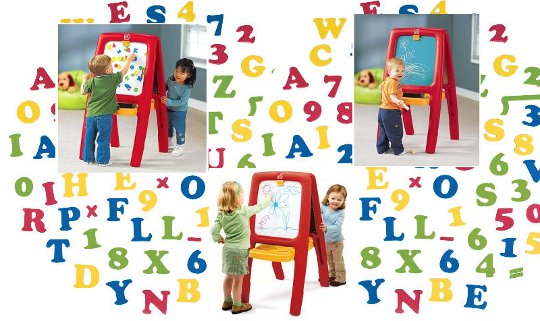 Our local Sainsbury's recently had these Step2 Easel for Two on sale at just £16 and I had a £3 off voucher, so I couldn't resist what strikes me as a fun and potentially educational toy at just £13 – instead of almost £55. (You can get them at Tesco, Amazon and a few other retailers too though)
I'm really pleased I went for it too, as it has so many entertainment alternatives. (That said, if I'd had to have paid full price, I'd have gone for a wooden, less chunky alternative.)
First off, it's a good height, meaning it will last a while, as my daughter will take a while to grow too tall to use it.  It has two different usable sides – a metal dry-erase board and a chalkboard for variety.  There's also a clip on each side for holding paper if your tot wants to draw on paper instead, and a large storage tray to keep all the different writing implements, eraser and 77 foam magnetic letters, numbers and signs.
You don't get the white board markers or chalk with the Easel For Two, which I realised after lugging it home so annoyingly had to go out again to get chalk.
A downside with a young child is teaching them which pens can be used on which sides, so until she's a little older I've just left it as chalk and we use normal pencils or crayons for the paper as those don't really hold on the white-board and it's not a train smash if she does draw on them with those as it's easy enough to clean again.
We specifically bought this to be used indoors, as the play room – or conservatory  - is getting a little cold now, but because it folds up pretty flat it's not at all inconvenient and can be popped behind the curtain if needed.
They don't recommend the Step2 Easel For Two for children under three due to small parts (the magnets), but I'm blessed with a child that doesn't put everything in her mouth and as she already has and loves her fridge magnets, we've let her play with these magnets now already, but there's nothing to stop you putting them away for later.
Despite the chalk bits that end up on the floor, the Step2 Easel For Two has put an end to a lot of drawing on the walls, and because it has two sides, it's been great for play dates too.