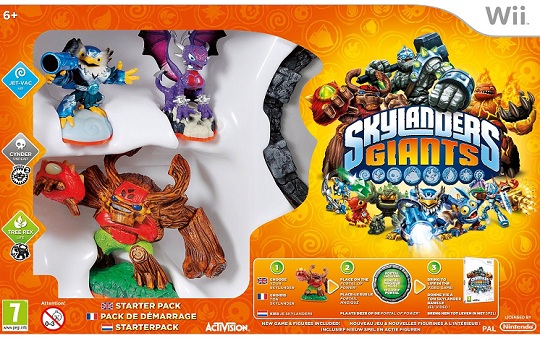 When we got the first Skylanders game – Spyro's Adventure – I was impressed by the game's design and the fact that they got it so right for kids. There were some issues like the excessive complexity of some tasks, the repetitiveness of others and the lack of depth overall. The game was finished in hours and had very little replay value. Actually it was boring to play again and again.
Skylanders Giants on the other hand has taken many of the issues that haunted the initial outing and revamped them to create a far slicker and more entertaining experience. Let's take a look at the downsides first. I have found it to be a lot more buggy with us having to restart an entire chapter because the game froze or didn't proceed as it should have. You also have to play with a giant which does come with the Skylanders Giants booster pack, but if that dies you are forced to restart some chapters as only Giants can complete certain tasks.
Or you have to fork out for extra characters so your kids can carry on playing. An expensive endeavour with the average Skylander Giant retailing for £12.85. It is also worth noting that Skylanders from the first game can happily play the second, but not the other way around.
However, in spite of these little issues, the game is nothing short of brilliant. In fact I am barely touching the sides of the game in this review.
Where Skylanders Giants has excelled is in the additional content, the extra playable areas and the replay value. Characters join your crew and offer extra battle arenas, challenges, Skystones games, and even the ability to decorate and design your ship.
Skylanders Giants is a far more immersive, entertaining and playable universe than the first game and looks set to be an even bigger success. I was sceptical about buying it, but now cannot recommend it enough. My daughter and I play for hours together and it's fantastic. The cheapest price I can find is £46.50 on Amazon* right now, but keep an eye on HUKD as it may come down elsewhere.