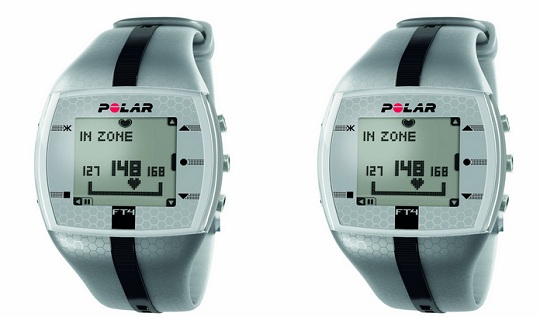 This is a very fancy, very easy and very expensive toy, but it is one that I highly recommend for parents who are trying to get themselves into a place of fitness and health. At the moment Amazon* have the Polar FT4 heart rate monitor and watch set down from the usual price of £74.50 to £51.82, which is a nice saving of £22.68, and a great opportunity to get this rather cool gadget.
I'm not going to lie, this set takes a bit of getting used to. I keep forgetting to set it up and put it on before I go out for my morning run. This has a lot to do with the fact that my morning run involves my trying to sneak out of the house like a cat ninja and if I don't keep the Polar close at hand, I can't wear it.
This device has been designed to show your fitness improving based on your heart rate, shows the calories you are burning, sets up your target zone based on your age, a back light, and a date and weekday indicator. It is also water resistant up to 30m, which is very handy indeed. It is very easy to put on and use – you will need a maximum of ten minutes to programme the Polar FT4 heart rate monitor – although I don't like the fact that there are so many fiddly components as I keep thinking, "Aargh, I am going to lose this."  One of the smallest parts is the most vital!
One of the biggest selling points of the Polar FT Heart Rate Monitor is the fact that it tells you when you are training in the fat burning zone so you can moderate your speed or effort to get the most out of your training programme. One of the biggest down sides (and for me this is big when you consider the price) is that it doesn't tell you the distance you have covered.
The chest strap is comfortable, the watch efficient and easy to use and the water resistance a big sell. It gets 8/10.