Leapfrog Tag Junior Review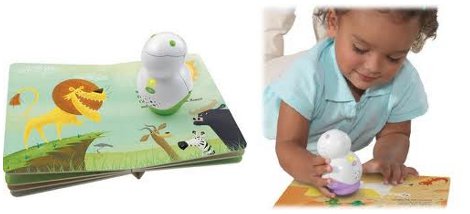 My daughter is 21 months old now, and really developing a taste for books. While I normally sit and read with her, I do like her to sometimes entertain herself, and for that reason, I thought the Tag Junior would be a great plaything.
The Tag Junior is a base handset onto which you can load any of the Leapfrog Tag Junior books, of which there are 28 books and games.  With the Tag Reader, you receive a free book and preloaded software, and a USB cable for connecting to a computer.
Setting up an account is simple, downloading the books are equally simple. You can also personalise the Tag so that it says your child's name when it is switched on or off.  I put the wrong name in, accidentally and found it almost impossible to change it back to the right name, or even reset it so there's no name at all, which was annoying, but it might just be me being daft.
That's honestly been the only annoyance so far, however, and I think it's a fantastic system. It reads the story to the child, and adds extra bits as you hold the Tag Reader over different pictures in the books, making sounds , like a lion's roar, to go with the images on the page – even if they technically have nothing to do with the story.
There's also an educational element, for example on the final page of the Cars book there are all the different shapes discussed in the book. Hold the Reader over the circle and it tells your child to find another circle in the book. When they do, it heartily congratulates them.
While there is a 'learning path' that parents can follow online, I think my daughter is too young for that, as I navigate the Reader a lot of the time, but as she gets older that'll be a great function.
Leapfrog don't recommend reusable batteries, which are a bit of a landfill problem, in my opinion (and have used anyway as that's all we have), so our way around that is to use them till they no longer work, then move them into our lullaby toy which drains them in a week or two before recharging them.
We love the Leapfrog Tag Junior Reading System and I think we'll have a lot of fun with it as my daughter grows with it.