Learning about financial health is, I'd imagine, similar to learning a language. The sooner you start, the more 'fluent' you will be for life, so getting children finance-fit from the start is an essential life skill that they'll thank you for later.
It's for this purpose that iChild's F&C Saving Superstar education programme was designed.
The programme was designed to help children learn about financial management in a way that's appropriate to their age group and to have fun while doing it. There are three 'ages' available: Under 5's, 5-7 and 7-11.
While iChild is an online programme, there are plenty of printable activities and educational resources, making it easy to do some actual sit down and learn work with the children, but as the activities are fun, they are also useful for slightly older children to do while travelling, on the train or just in place of activity work books.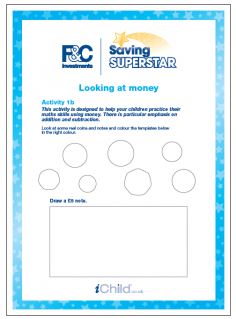 It's also worth noting that the F&C Saving Superstar programme ties in with the national curriculum, so you know the work you're doing will also benefit your child at school.
For this particular part of the iChild offering, there are 10 activities to complete in each age group, and using the corresponding reward chart and certificate, you can monitor your child's progress as you go along, and then reward them at the end.
Looking at the resources - iChild sent us the printed out resources for this programme, and they are really very good.
If you've signed up for the free membership you get a few of the exercises and activities, but nowhere near as many.
Activity 1a gives takes you to the very beginning, and shows your child the different coins we use in our British currency. The activity then suggests topics of conversation, like talking about the colours of the coins, or suggested activities, like sorting the coins into colours or by size. (This is from the under 5's work. For older kids there'd obviously be a bit more challenging stuff to do.)
The activities go on to recommend when and how to talk about savings, and suggesting saving 10p per day and so on.
Other activities include drawing the notes, different ways to make up 10p, simple counting activities, pretend supermarket shopping activities, pretend play, saving discussions, colouring activities, practical activities, like planning and hosting a party, and a 'match it' game. There are also print outs for play coins, reward charts to 'tick off' as you go along the activities and a star chart you can print and cut out.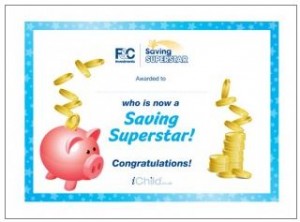 Knowing my four year old, I would imagine that each of these activities would be limited to one or at most two a day, considering attention span. So technically, you should be able to do the program in a week or two.
The whole F&C Saving Superstar programme is free on the F&C website, but they've uploaded the first couple of resources from each age group on iChild.
I suppose there's nothing in the pack that you couldn't learn by compiling resources from other sources like Pinterest and so on, but ask anyone who has tried to put together a bunch of activities for a child on a theme, or to keep them occupied, and you'll find that it is really time consuming, so having everything in one place and on one website is really incredibly valuable and helpful.
As future home schoolers, I'm quite excited by the whole iChild website because there are activities that link in to all areas of the National Curriculum, as well as discounts and offers on things like Legoland Windsor, Chessington World of Adventure and similar day trips and outings.
In addition to the free resources, there's also a Gold membership option, which costs £79 per year and gives you access to thousands of additional 'Premium' resources, as well as exclusive discounts and offers. Some of the resources this month are: Grandparents' Day, Eid, Autumn, Halloween, Diwali, Times Tables, Summer, EYFS activities and Children's Savings.
This week is actually World Space Week, so I did a search on iChild to see what they have available on the theme of Space. I found colouring pictures, colour and count activity sheets and 'design your own space ship' style sheets, so plenty to keep a 4 year old entertained on a train ride to London to visit the planetarium!
The Good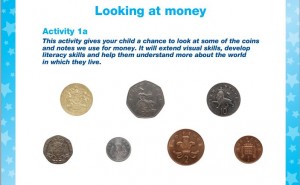 As a website as a whole, iChild is filled to the brim with useful, helpful resources, perfect for helping your child with school topics at home.   It's really time saving when you're in a routine of doing 'school' topics with your child.
As a programme, we haven't had a chance to go through the whole F&C Saving Superstar programme yet, but so far so good - my daughter can identify the coins and manages to work out the value of some in relation to others, so progress is being made.
The Bad
There's a fair amount of printing, which can work out pretty expensive. If you were going to do it anyway, this still saves you time.
While the star border on the activity sheets is very pretty, it's not very economical for printing, and would be nice to have a 'print without the border' option.
The Verdict
If you have children who need any additional help with school work, or just need activities to keep them busy on rainy days, this is very useful and provides plenty of options. Whether you can stick with the free membership or need paid membership will depend on how much you use it, and if you use it a lot, I would venture it's worth the paid membership.