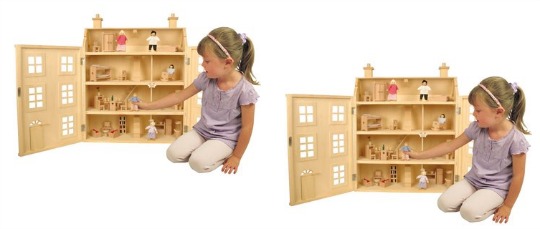 You folk go daft for wooden doll houses, but they tend to come without any furniture or figures. We have found you a super one with everything you need for inside it. Over at Toys R Us they have halved the price of selected toys for half term, meaning this particular dolls house is now only £49.99, down from £99.99. That's not good enough for us, so we found that if you pop coupon code BIRTHDAY9 in at the checkout, you get this fine toy for just £44.99. Oh and FREE delivery to boot!
This lovely wooden doll house has four storeys and in my opinion looks miles better than most of the others on the market in it's price range. With it comes fifty pieces of furniture, dolls and accessories. The roof can be totally removed and the front of the house can be opened up as it is hinged.
I do want to point out that this toy contains magnets so please make sure your child doesn't put anything part of this toy in their mouth. You can find more information on this when you click the link above.
Don't forget to enter BIRTHDAY9 at the checkout, you can find this coupon code and others over at our vouchers section.