Paint-Your-Own Dolls House £7.50 (Including Delivery) @ Hawkins Bazaar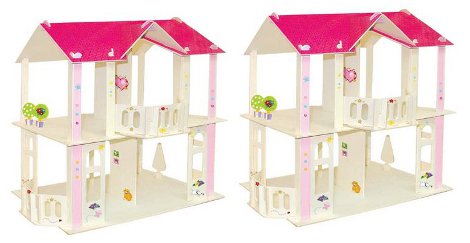 The Paint-Your-Own Dollshouse at Hawkins Bazaar is down from £15.00 to £7.50, and with the code below also includes free delivery.
I'm a big lover of things that cause creativity to flow, and I know that when children put a bit of effort into something, it adds a bit of value to the resulting item, so they'll probably enjoy it more, and take care of it better.
That's why I love this doll's house. It's not just a toy, but a creative experience which can be shared.
Press-out and slot together wooden shapes together to create a pretty doll's house. It simple enough for children to build, and is a great value alternative to a traditional doll's house, with an open structure to enable more than one child to play comfortably.
It comes with a pack of colourful transfers to decorate the finished piece. The pitched roof encloses four rooms and two balconies, all sized to 1/16th scale, and stands 35cm high.
Add the Hawkins bazaar special code FP9908 at checkout for Free Delivery saving £3.99.
Thanks to lucerysmum at HUKD