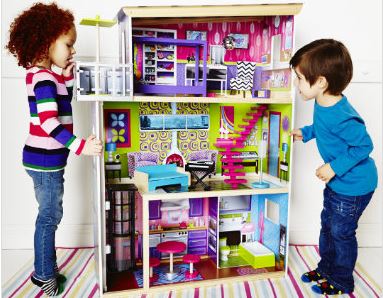 ELC are selling the gorgeous La Belle Maison for £50, reduced from £140. It's an amazing size dolls house and one that needs pride of place in a play room. There's free home delivery with this, or you can collect at a local store.
The ELC La Belle Maison is fully open one side, ensuring that little hands can fully explore the various rooms. This three storey mansion has a working lift that will take you to the first floor, where you will find a stylishly designed lounge.
There is a bathroom where your doll can relax in the tub and use the "flushing" toilet. They can sit in the kitchen with their friends, using the table and chairs. There is a working keyboard for your doll to entertain guests or they can sit on the balcony and enjoy the view.
When it is time for everyone to go home, switch off the lamp and your dolls can fall asleep in their own luxury bed.
This set comes with a penthouse balcony and realistic lights and sounds, and has opening and closing shutters.