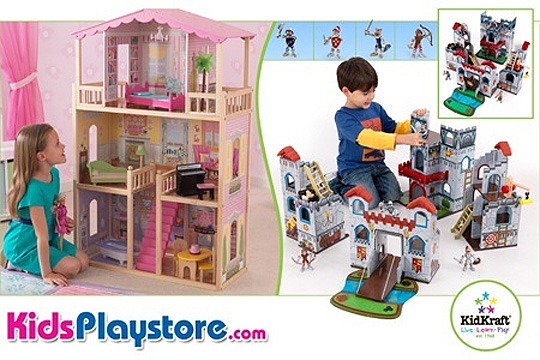 If you're in the market for a dollhouse, or boy equivalent, then you might want to get your proverbial skates on and have a look at this Groupon deal - a KidKraft Sweet and Sunny Dollhouse or Fun Explorer Castle play set is up for grabs for £59.99 instead of, wait for it, £149.99!
I never had a dolls house when I was little, probably because I never asked for one (at least I don't ever doing so), but my friend who lived a couple of doors down did and I remember being fascinated by the miniature standard lamps that actually worked.
The KidKraft Sweet and Sunny dollhouse looks enormous and, I'm sure, would be the pride and joy of any little girl's Christmas this year.  It requires some self-assembly, but comes with detailed instructions, and is made from wood and other 'sturdy materials' (whatever they may be).
It has 12 pieces of furniture, including a piano and chandelier, a moulded plastic staircase and two outdoor patio areas; dolls already living in your household who are less than 30cm tall can move in and live comfortably.
The Fun Explorer Castle is made from MDF, wood and plastic.  It measures 80cm x 66cm x 38cms, has four plastic moulded roofs and comes with a canon, drawbridge and four moulded figures to live in it.
This Groupon deal expires TONIGHT at the usual 11.59pm and you can redeem your voucher from 8pm on Thursday 17 November - you MUST redeem your voucher before 17 December.
If you're looking at either the KidKraft Sweet and Sunny Dollhouse or the Fun Explorer Castle to give as Christmas presents, you must allow two to three weeks for delivery (which is going to cost an additional £6.95) so I'd redeem your voucher as soon as you can.
Thanks to BEANZ-ON-TOAST at HUKD