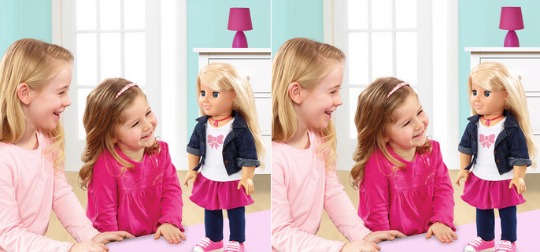 My Friend Cayla is a doll with a difference. She doesn't come cheap, unless you nip over to Argos or Amazon today, where you can get her for just £36.54. It's £43.99 from Smyths, £42.99 from Toys R Us, and £49.99 from Tesco. Cayla is splashed across most children's television channels come advertisement break time. I'd be swaying towards Amazon, due to the fact that you do get FREE delivery.
What can Cayla do? 
She can answer questions. Ask Cayla about animals, countries of the world, maths or spelling. She will be right most times, that you will find yourself quizzing her with difficult questions to catch her out.
Cayla can also chat, like about things like hobbies, favourite foods, her family and clothes. She comes with a photo album, and she will chat about it and answer questions regarding it. With the ability to play noughts and crosses and tell stories, it's easy to see that she is worth the sub £40 price tag.
She connects to the internet, and that is quite simply how she works, by send speech to text commands, and retrieving answers.
My Friend Cayla can be collected from your local Argos for FREE, or order from Amazon for FREE Super Saver delivery.