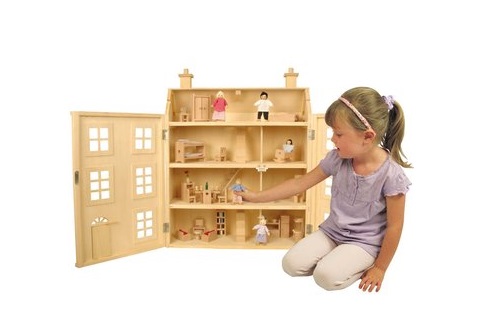 This Doll House at Toys R Us is currently reduced online only to £29.99. That gives you free delivery if you want to buy just that, but if you add a small item - the lowest we could find was 99p - you can use the BIRTHDAY8 code to take £5 off your price, giving you the dolls house, plus a small item, delivered for £25.98.
I quite like that I can get the Doll House and a Digibird, making the Digibird which is currently reduced to £7.49 cost just £2.49.
This dolls house is fabulous.
The price is online only, and it comes with 50 pieces. It's a plain wooden house, so it can be decorated before it's assembled, or it can be left as is, which is fabulous if you want it for a little boy, specifically.
The house has 4 storeys, a hinged opening front and removable roof, and should be perfect for hours of play.
For this and other voucher codes from Toys R Us, visit our voucher page.
Thanks to lels and Bunnyhop at HUKD