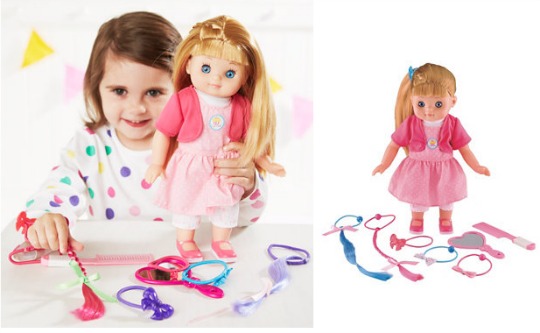 Dolls will never go out of fashion. A toy that boys and girls love to play with, and I think society is coming round to the idea of boys playing with what was once upon a time a girls only toy. This Cup Cake Hair Styling Doll from the Early Learning Centre is reduced from £18 to just £5. An ideal birthday present for cousins or one to tuck away as a reward.
The Cup Cake Hair Styling Doll comes with heaps of pretty accessories to keep your little one occupied. There are hair extensions, bobbles (hair-ties), a mirror and a comb.
Her clothes are removable as well so you can put on a different outfit, however, extra outfits are not included. This doll is suitable for children aged three years old and above.
This Cup Cake Vet Doll Set* is also reduced from £18 to just a fiver.  This doll also comes with lots of accessories including a very cute puppy.
You can click and collect either Cup Cake Doll Sets from your nearest Early Learning Centre for FREE or pay £3.95 for home delivery.
Thanks to jamieamelia84 @ HUKD