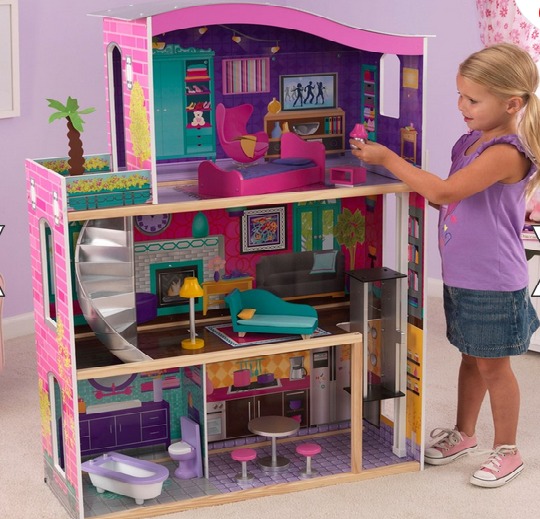 Wow! Just when I thought we couldn't beat the GIANT Dolls' House from the Early Learning Centre, here. This one is even cheaper, at first glance I thought "ahhh, it's plastic, that explains the price.", it isn't just plastic,  it's wooden too and every bit as impressive as the one we blogged about yesterday. Click the picture above or the link below and head over to Smyths where you will find the City Lights Dolls' House, reduced from £89.99 to just £59.99. Crikey! That's not all, since it's over £59 you can get FREE Express Delivery too.
The City Lights Dolls' House isn't quite as tall as Manor House from ELC but it is still a whopping 88.5 centimetres tall, which makes it big enough for those Bratz dolls or Barbies.
This amazing house has a working elevator. and includes eleven pieces of furniture like a grand bed and a chaise longue. It might not look as classically posh as The Manor, but seems much more modern and hip (unlike my lingo) for those trendy dolls. You know the ones with the cool jobs and no kids.
For under £60, you'd be silly not to consider this HUGE City Lights Dolls' House from Smyths.