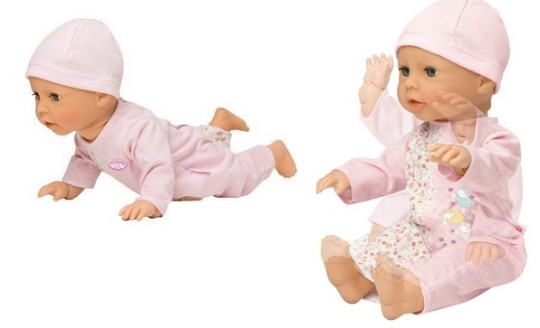 Amazon are selling the Baby Annabell Learns To Walk for £33.99 delivered. It's selling at  £39.99 at Toys R Us right now, while Debenhams sell it for £44.
Baby Annabell Learns To Walk crawls along the floor, sits up and walks along whils holding your hands. It's pretty realistic sounding!
Annabell requries x4 AA batteries which is why she's suitable for 3 year olds and above - but if you don't have someone who likes putting things in their mouths, you may be able to get away with it.
According to people who own this version of Annabell, her eyes open and close depending on if she lies down or sits up. She also gurgles and cries but she doesn't suck her dummy.
I love the idea of her walking along with her little girl/mama. It would be an amazingly good doll for someone expecting a big brother or sister.