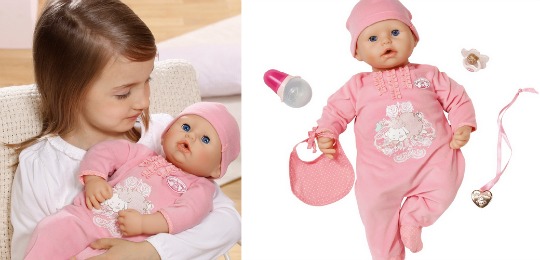 If you happen to be looking for a Baby Annabell doll, then you will know that they don't come cheap. If you go over to Debenhams today, you can get this for just £40, including FREE delivery. This very same doll costs £47.99 over at Toys R Us. To get this from Debenhams at this super price, all you need to enter the promotional code PX49. This will take 20% off (£10) making this £40. Plus you will receive a £5 promotional gift card via email between Monday 3rd - Friday 7th November.
Baby Annabell is one of the most popular dolls on the market. Here's why...  She acts just like a real baby, as she moves and makes baby sounds. At 46cm long, she is around the average length of a newborn.
What fascinates me is that this doll can be rocked to sleep. That's amazing! This Baby Annabell is well worth £40, she can suck her dummy, gurgle, babble and even yawn. A bottle and a dummy are included along with this interactive doll.
As Baby Annabell is over £30, you can get FREE delivery from Debenhams.
Thanks to joleedav @ HUKD