45% Off Smoby Maxi Cosi Quinny 3 Wheel Doll's Twin Pushchair Now £21.89 Delivered @ Amazon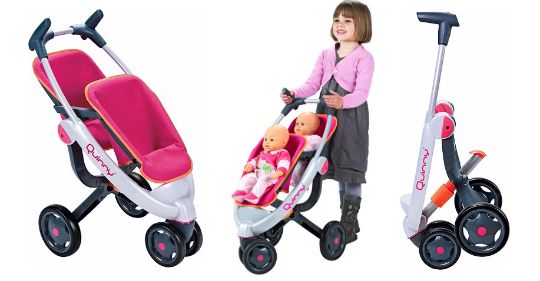 If your little one has their eye on a doll's pushchair for Christmas this year, then this deal will be right up your street! At Amazon right now they have a whopping 45% off the retail price of the Smoby Maxi Cosi Quinny 3 Wheel Pushchair. It normally retails for £39.99 but Amazon are currently selling it for just £21.89 including free delivery. That's another Christmas present ticked off the list! :-)
I really like the design of this pushchair, it is a double pushchair but rather than being side by side, instead one seat is behind the other. This should make it easier for youngsters to be able to manoeuvre the pushchair with ease. It is also foldable so makes storing it a lot easier.
Treat your favourite baby dolls to a nice stroll out to the park, shops or even back garden with the Smoby Maxi Cosi 3 Wheel Dolls Twin Pushchair. Lay them down or seat them comfortably in the snug seats and they'll be the envy of all the other dolls in the street with this incredibly stylish twin pushchair.
This is a great item for encouraging role play and independence in little ones. I'm sure they would be very excited to see this under the Christmas tree!