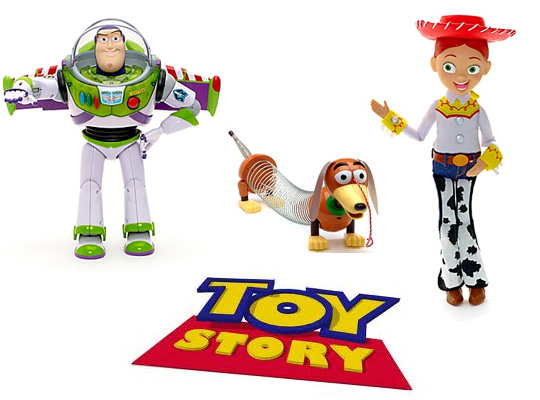 If you get yourself over to the Disney Store, pronto, you'll be able to pick up a Toy Story Talking Jessie, Toy Story Talking Power Up Buzz Lightyear or a Toy Story Talking Slinky Dog  for £15 (they're usually at least £25).
I don't think Toy Story will ever stop being popular; if you're smart you'll bag one of these Toy Story Talking Toys now and beat the Christmas madness that always occurs, saving yourself a whole load of stress as well as money!
Power Up Buzz Lightyear has posable arms and legs, pop-out wings, flashing lights, opening visor and says over 20 character phrases (someone rip my ears off now!  I'm not a fan of Buzz, he's just far too superior and smug for my liking!).
Toy Story Talking Jessie is 12" tall and has a pull-ring in her back to make her talk.  She says various phrases from the film (it would be a bit random if she didn't), she has soft ragdoll arms, legs and body along with a soft plastic hat, boots and belt.
Her shirt buttons and belt buckle are made from hard plastic and she's suitable for little Toy Story fans aged three years or over, and although I think Toy Story Talking Jessielooks somewhat manic and terrifying, I'm sure kids will love her.
Out of these three Toy Story talking amigos, Slinky Dog has to be my favourite.  He has big leathery ears, wheels under his feet, a string to pull him along with and a metal spring body that stretches out as he's pulled along and he says 10 film phrases.
Standard delivery will cost £3.95, although there is a rumour going around that promotion code BRAVE05 will bag you free delivery - it seems to be working for some and not for others.
Thanks to lauratommo at HUKD