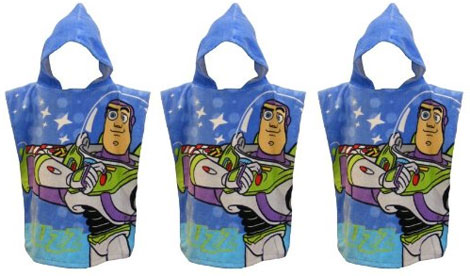 Amazon are selling this Toy Story Poncho for £5.00 instead of £9.99
Things lke this Toy Story Poncho are ideal for kids who are little water babies.
My youngest has swimming lessons every Friday and all of the 'Frogs' (as his class are called) come out of the pool, after their lesson, and proceed to shuffle along the poolside with their little arms wrapped around them whilst shivering like...well, like little shivering things.
A Toy Story Poncho whipped over the head pretty sharpish would solve that.
They are also handy for throwing in a beach bag - yes, that's the bag that's tucked away in the back of the cupboard that rarely gets to see the light of day; although I'm confident that THIS year could see the return of some serious summer weather for our shores.  I have nothing to base that on, no secret Met Office information - I just don't think I could stand another non-summer.
The Toy Story Poncho is machine washable at 40C (if you really must wash at 40C instead of 30C) and it can be tumble dried too, but as it's made from towelling it really isn't going to take very long to dry on the washing line or thrown over a radiator.
Thanks to shadow1 at HUKD