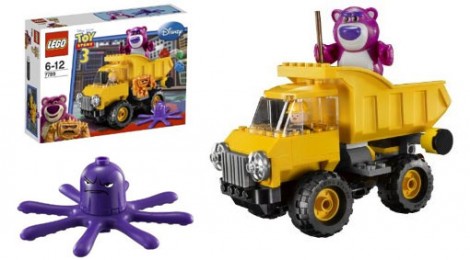 Amazon have a nice little deal on Lego Toy Story 3: Lotso's Dump Truck at the moment.
I love all the themed Lego - Star Wars Lego, Harry Potter Lego, Toy Story 3 Lego it makes no difference.
Yes, I know it's supposed to be for the kids but they need help, right?  I mean, following the instructions and constructing Lego can be a tricky business!
If you have a youngster who's into diggers and trucks and JCBs, like mine, then this Toy Story 3 Lego: Lotso's Dump Truck is going to be right up their street.
It comes with page-by-page instructions on how to build it and comes with Lotso, Stretch and Chunk figures too.
Then when your Toy Story 3 Lego Dump Truck is built, you can fill the back with other bits of Lego (because you're bound to have lots of random bits of it hanging around...or does that only happen in my house?) and tip it out - Lotso's Dump Truck has a tipping action, you see.
The rrp for Lotso's Dump Truck is normally £15.99 but Amazon are currently selling it for £10.99 - watch out for their up-and-down price shifting though!
Thanks to aliciashea over at HUKD