Sven & Olaf 3 Segment Plate £3.09 @ Internet Gift Store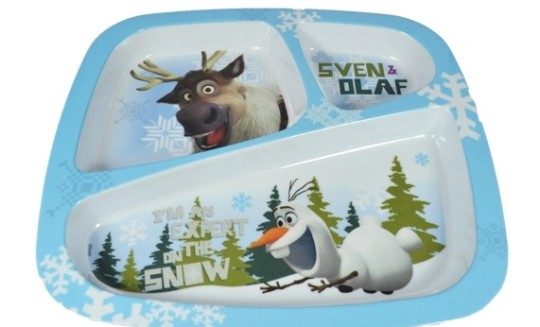 Tomorrow's the last day for free delivery at the Internet Gift Store, and it seems that they have some new stock in. I've been keeping a close eye on their Frozen merchandise during the free delivery period but there's not been much movement until today. The Sven & Olaf 3 Segment Plate is in stock now for £3.99. There are still current and active codes - ICLICKED, and FACEBOOK1 - which will take 90p off your order, making it £3.99. It seems that if you try to pay through PayPal it may charge you postage - just pay by card if that happens, but my PayPal order had free delivery.
I love this plate! I can think of three specific uses for a 3-segment plate:
One, a fussy child who doesn't like eating food that touches other food, or where the colours run. (Not my child, mercifully, but I do know one like that!)
Two, for having different snack foods on a table for kids to just help themselves as the wish.
Three, for a Frozen themed party - great for putting 'Frozen Fractals' in - (think coloured sugar crystals!)
The melamine plate will be just fine carried around by little people and it is dishwasher safe too.