Superhero/Princess Edible Cupcake Toppers £2.05 Delivered @ Amazon Seller: Label Amour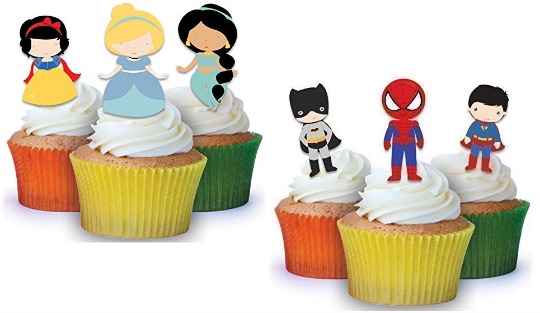 When you have a kids' party you need cakes. Sure, cupcakes are good but make them great with these Superhero/Princess Cupcake Toppers. They are only £1.10 with 95p postage fee from Amazon Seller: Label Amour. These are a nice addition to a Disney Princess Party or a Superhero one. For Party Tableware, check out the great deals we found at Argos this morning, here.
Each pack contains twenty-four Cupcake Toppers made from edible rice paper. They do come on a sheet and require cutting out, so bear that in mind.
The ingredients are: potato starch, vegetable oil, water and printed with edible water based ink. None of the characters are official, however the likeness to Superman, Spider-man and the Disney Princesses is uncanny.
My boys love my Banana and Nutella Cupcakes. They are really simple to make too. Here's the recipe I use for the actual cake*. For the Frosting, I mix a BIG jar of Nutella, two heaped tablespoons of Cream Cheese and one tablespoon of Icing Sugar. Mix well and pipe onto the cake using a piping bag.