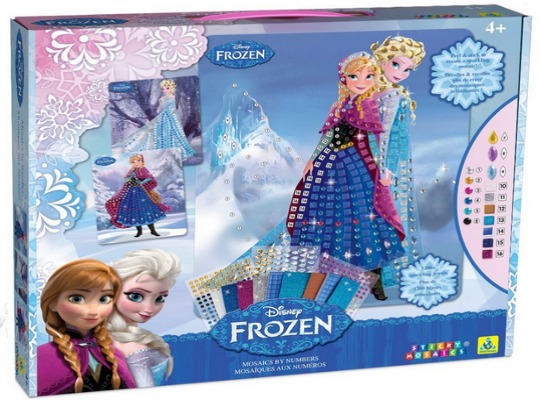 Got a couple of birthday parties coming up or a niece or nephews special day? You will please any little Frozen fan with the Sticky Mosaics Disney  Frozen Anna and Elsa with Jewels. It's a very affordable £10.99 with FREE delivery included at Amazon. This very same set sells for £15 at Debenhams, The Entertainer and lots of other places, so the price is good.
The Sticky Mosaics Disney Frozen Anna and Elsa with Jewels Set contains 1200 plus sparkling jewels and sticky tiles. Perfect for those rainy days when they moan they are bored.
You little one can create three different Disney Frozen pictures with this kit. By using the jewels and tiles your child will learn the art of patience and will impress you with their creativity.
I used to absolutely adore sets like this as a child, because you start with something so plain and turn into something ever so pretty. Plus you get to gift it to granny, mum or the old lady next door and they will be very grateful for such a lovely picture.