Selected Fisher Price Little People Toys Around Half Price Or Less @ Argos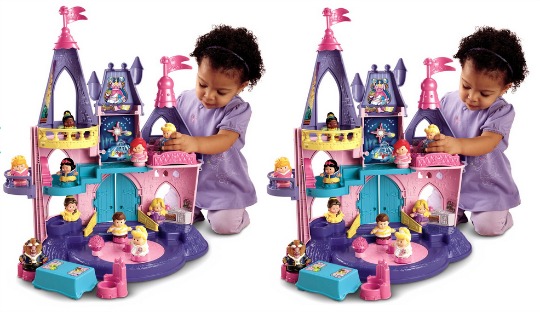 Fisher Price struck gold when they released their Little People Toys. They are very popular and I can see why. My boys loved their Little People Toys and were always playing with them. I went on to sell them once they had outgrown them and got a good chunk of my money back. Argos has slashed the prices of Selected Fisher Price Little People Toys. That Disney Palace is included so get over there now!
Its been quite a while since the Fisher Price Little People Disney Princess Songs Palace was sub thirty quid. Argos have it reduced from £54.99 to just £27.49. This all singing and dancing play castle is highly sought after so I'd get it reserved ASAP if you want one at this price. This is currently £55 at Debenhams!
The Fisher Price Little People Racing Ramps Playset is now only £19.99, reduced from £39.99. It's selling for £39.99 at Toys R Us, so the Argos price is a genuine reduction.
There are two more LP reduced at Argos too: the Fire Station down from £29.99 to just £15.99 and the LP I-JIG Digital Jigsaw. That was £19.99 and is now only £5.99.
You can Reserve and Collect your Little People items for FREE from an Argos store or pay £3.95 for home delivery.