Save 15% @ The Disney Store When You Redeem 150 Points @ Disney Movie Rewards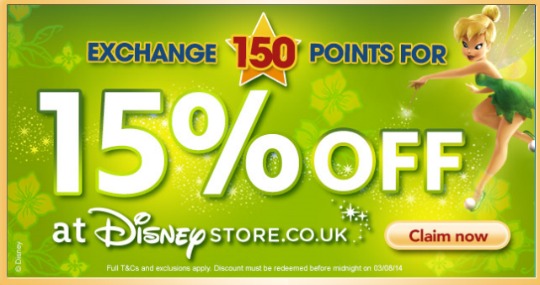 The title says it all here really.  If you collect Disney Movie rewards  and register them online, you can currently redeem 150 of those points for 15% off at The Disney Store.
Simply log into your account and claim the applicable reward. If you're new to Disney Rewards, register and get hunting through those DVD and games cases to claim your 15%, or indeed your preferred reward.
Various terms and conditions on this one, you can only claim the 15% once per account and it's valid until the 3rd of August. It sadly excludes DVDs, Blu-Rays, CDs and Games, Limited Edition products, Disney INFINITY, Items from the Frozen range, electronics and delivery charges. The offer is not to be used in conjunction with any other promotion also.
Discount : 15%
Code : Unique Code
Expires : 3rd Of August.
You'll find that voucher for The Disney Store  and lots more over in our voucher section.