Rubies Disney Princess Outfits From £6.65 @ Amazon/Various Amazon Sellers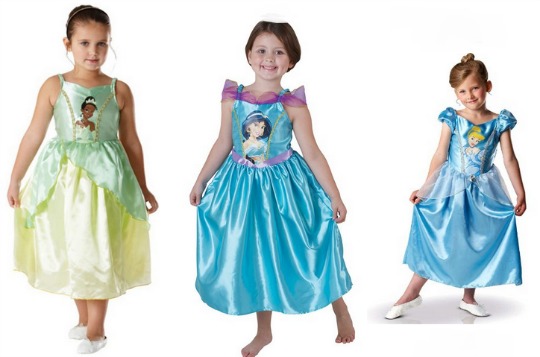 Kids just love dress up and these Disney Princess dresses are very popular indeed. Get them cheap over at Amazon, some are sold by Amazon and some sold by Amazon sellers like Taylor's Fancy Dress for Kids. Prices start at £6.68, and there's Tiana, Jasmine and Cinderella.
The Rubies Disney Princess Cinderella dress is a long blue dress and comes in three different sizes, at three different prices. 3-4 years is £12.13, 5-6 is £8.69 and age 7-8 is £7.11.
Princess Jasmine is blue with purple detailing, comes in 3-4 years is £7.51, 5-6 is £10.79 and 7-8 is only £6.65. It is hand wash only, as with all fancy dress items.
Princess Tiana isn't the most renowned Disney Character, and it's available in 3-4 years at £6.65, 5-6 is £10 and 7-8 is £6.68.
These would make lovely little gifts for a little Princess. Most of them fall short of the Amazon £10 threshold for FREE Super Saver delivery. My advice is to bump your order up to at least £10 to save on delivery charges. Why not buy a Tiana and a Jasmine together? Or Cinderella and Jasmine?
Thanks to caron6609 @ HUKD