Reductions On Children's Onesies Starting From £3 @ Matalan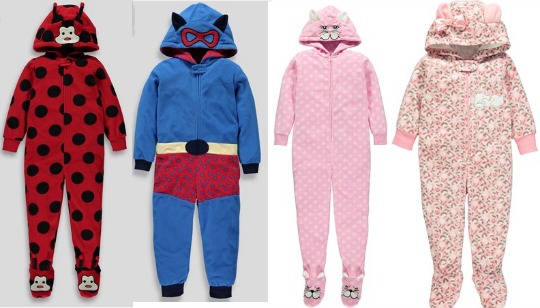 It's that time of year where you just want to snuggle in front of the television with pyjamas on. Kids love being all wrapped up in a onesie. I had to persuade my middle son to give up his fleecy dragon one in the summer, it was way too hot for it. We have found some very winter and kid friendly onesies reduced at Matalan. They have a good mixture of styles for boys and girls, and they start at only £3.
I could really go daft buying these as I know my boys much prefer a onesie to a pair of pyjamas. Let me show you what we found for those little men in our lives: This Robot onesie* is aimed at small children and is available in sizes 12-18 months, 18-24 months and 3-4 years. The smallest size is only £3 and the other two are £4.
The Novelty Superhero onesie* is my absolute favourite and comes in sizes ranging from 12-18 months through to 4-5 years. Again the smallest size is cheapest, at just £5 and all other sizes are just £6.
For the girls: This Minnie Mouse one* comes in a leopard print pattern and is now only £7 for sizes 2-3, 4-5 and 6-7 years. All other sizes are £9, and this particular onesie goes right up to 12-13 years.
You can collect your kids' onesies for FREE from your local Matalan store or pay £3.95 to have it delivered.