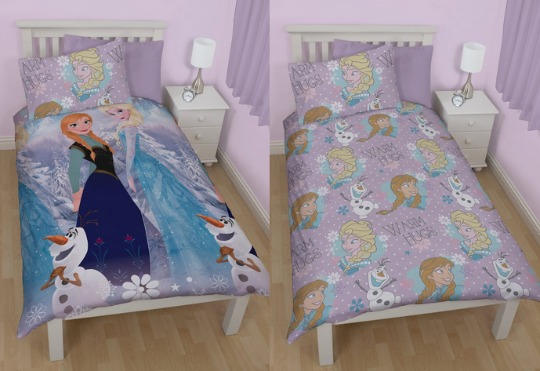 Holy Moly! Best deal EVER! Get clicking the pic above or the link below and get THREE Disney Frozen Crystal Rotary Duvet Sets for £15.99 with FREE delivery included from Argos. Simply select three of them, add to basket, then enter Argos discount code HOME15 and HOME25 at the checkout. The codes are stacking and you will get these for this amazing price.
This glitch is fantastic is you have more than one child, or if in fact, you know that your child will never want to sleep with anything else on their bed. Having a couple of spares is never a bad thing, especially if you have a Frozen themed room. It's nice to have everything matching.
These duvet cover sets come with matching pillowcases and are made up of 100% microfibre. They are fine to machine wash, and are soft to the touch. What's good about these is that they can be flipped for a completely different Frozen look.
Both sides of the duvet cover feature Anna, Elsa and Olaf. A must for any little Frozen fan!
Why not try the codes on other children's duvet cover sets? It should work, as they are 3 for 2 and with the codes stacking, you should get a bargain.