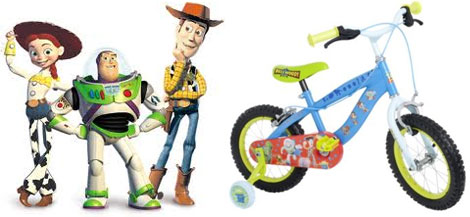 Bikes are traditional BIG Christmas pressies, if you're looking for a Toy Story one then pop over to B&Q (yes I know that sounds a bit weird and that it should be Halfords, but I promise it's B&Q you want for this Toy Story Bike).
I remember getting a bike for Christmas when I was little – it was a metalic lilac colour and had a little white single panier thing on the back for putting important things in, like my tea set and a book!
I remember getting a bike for Christmas when I was older – it was a Raleigh Racer and I LOVED it!
It doesn't seem to matter how cold it is on Christmas day, if you're the proud owner of a new bike you're going to RIDE it! Nothing short of three feet of snow is going to stop you!
The Toy Story Bike has 14" wheels, a brightly coloured and printed tubular steel frame, front and back caliper brakes, adjustable saddle and handle bars and those all important stabilisers for the first few shaky months of learning how to ride.
The rrp for this Toy Story bike is £89.98 but Halfords have slashed that price for you and you can grab one for £44.90 by reserving it for  in-store collection online and pay when you pick it up.
With whispers that some Christmas deliveries might not make it on time due to the chaos and backlog caused by the snow,  nipping out to your local B&Q to collect this Toy Story Bike yourself suddenly sounds like a great idea!
Thanks to popplh over at HUKD